Hooray! You and your partner are getting married and all the preparations for your big day are well underway. A wedding is one of the most memorable occasions in a lifetime, and it can be truly memorable to celebrate your marriage in the company of others. If you're inviting guests, you will need some wedding invitations to get the big news out. But who says that fancy printed invitations on cardstock are the only way to go? Wedding e-invitations can be just as unique and wonderful as any physical invitation so read on for some ideas!
E-invitations? What about paper wedding invitations?
While it is true that paper wedding invitations can let you come up with some wondrous designs, this comes at the cost of more time, money, and materials to produce them compared to e-invitations. Although e-invitations certainly lose out on that physical touch, they have an advantage in being more flexible to design, easy to share, and cheaper to create while also saving the environment. Plus, it's becoming trendy to go digital for your invitations nowadays, so don't worry about ditching the paper!
Idea 1: Modern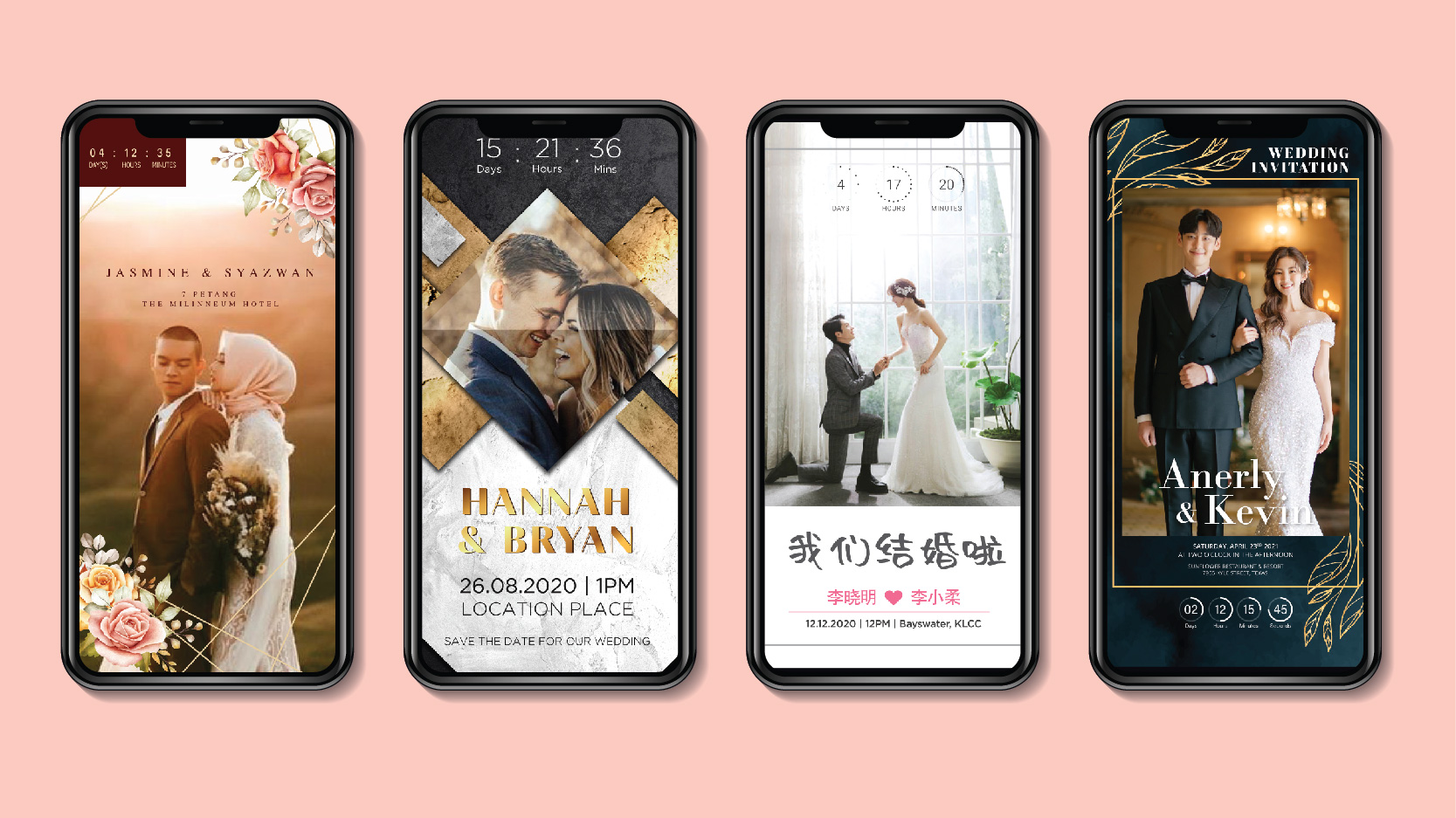 In a modern design, minimalism, simplicity, and sleekness are ideal qualities to have. Compared to traditional designs, modern designs are typically less extravagant with ornate or highly decorative elements being used more sparingly; clean lines, geometry, and metallics make up most modern designs instead. As for colours, white, black, dark blue, and grey are good choices, but any colour will do fine so long as the composition looks modern.
To keep with the modern feel, try to avoid any exaggerated or fussy elements that might take away the clean look, such as highly elaborate patterns and textures. With the right amount of minimalism, your wedding e-invitation will look clean yet subtle and sophisticated.
Idea 2: Elegant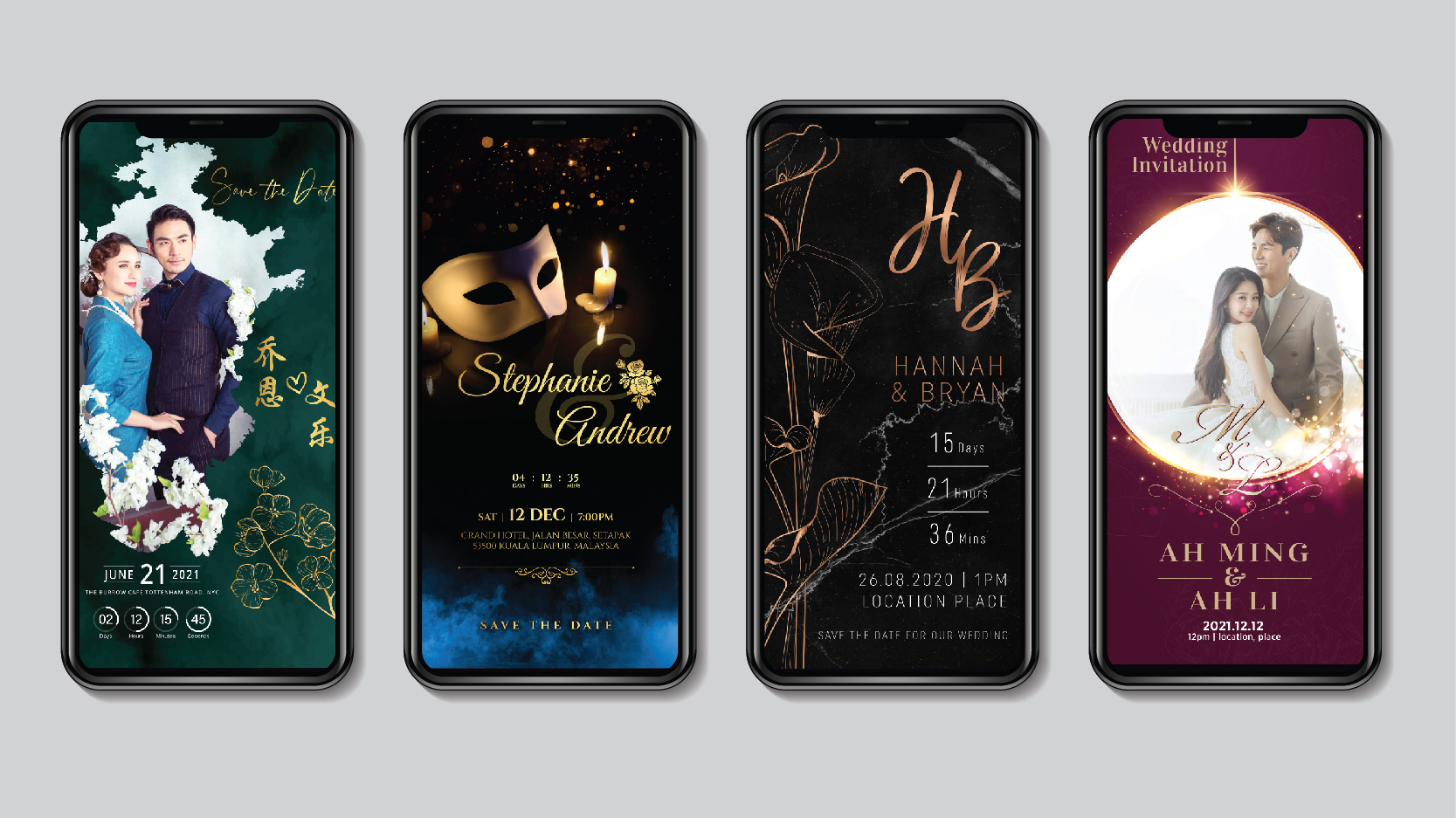 A graceful design of grandeur and detail, elegant themes are ornate, fancy, and features a lot of delicate elements. Unlike the more subdued tones of modern design, elegant designs are clean-looking but more bold and powerful in its aesthetics – floral elements, lace patterns, and gleaming colours are commonly used examples of these. Together with an elaborate typeface, the end result is one that is brimming with class and chic.
Feature-wise, the elegant theme also goes well with the multiple functions that e-invitations have. If your wedding ceremony is particularly grand, adding the right photos and videos can create a truly wondrous aesthetic that is sure to impress any guest.
Idea 3: Rustic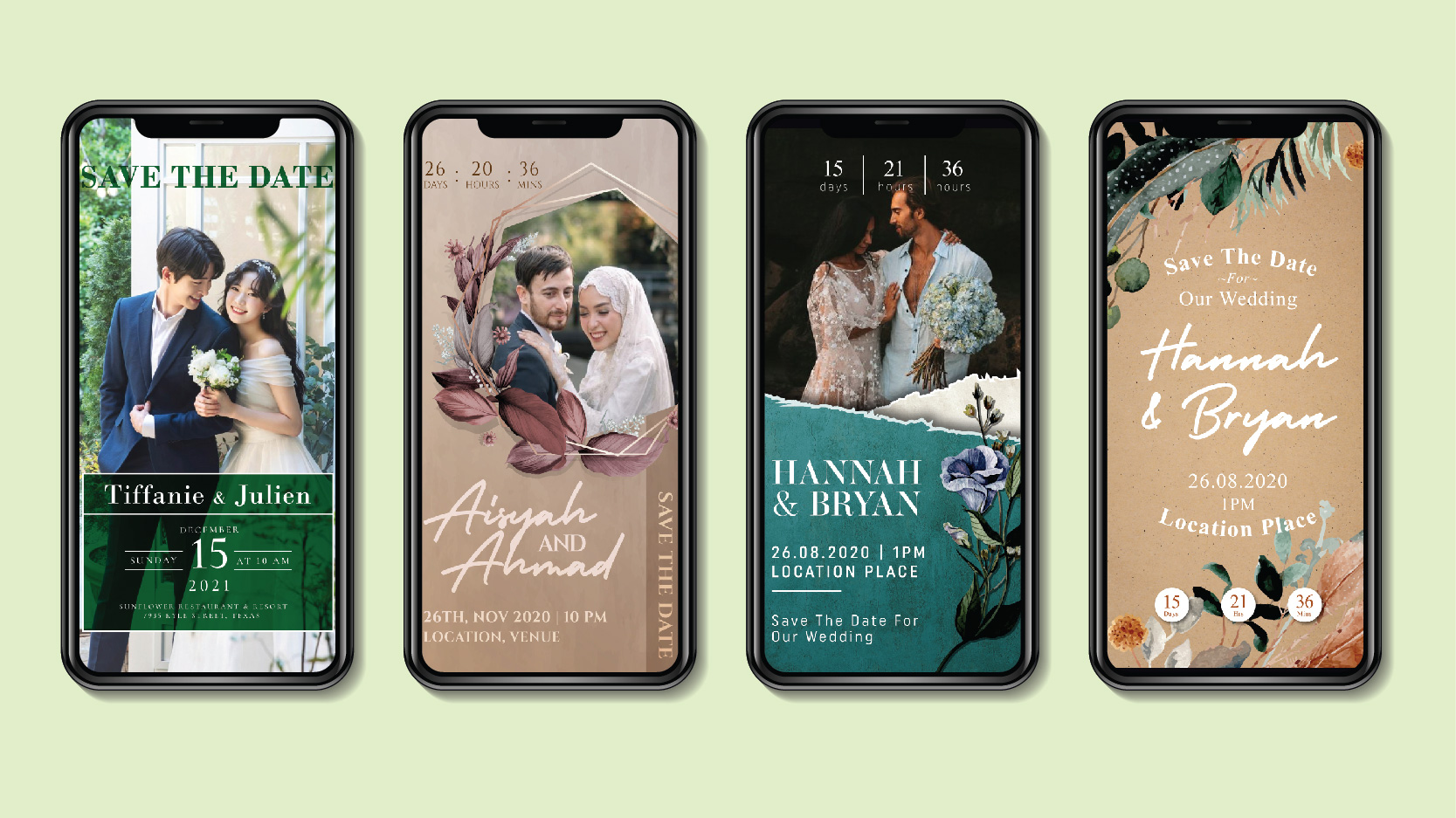 Embracing the comforting and rugged aesthetic of nature, the rustic theme is a superb way to bring the beauty of outdoors into your invitations. Earthy, wooded, and natural elements are the biggest part of rustic designs, so don't be afraid to have some rough edges and textures. Since nature is a big part of this theme, muted, neutral colours like green, brown, and turquoise are more preferable. After all, comfort is a big thing about going rustic.
If you're adding photos and videos, you can arrange them in a collage or scrapbook fashion to really convey that natural feel – bonus points if they are taken in a garden or outdoor setting. And of course, having some trees, flowers, and plants in your designs are always welcome.
Idea 4: Fairytale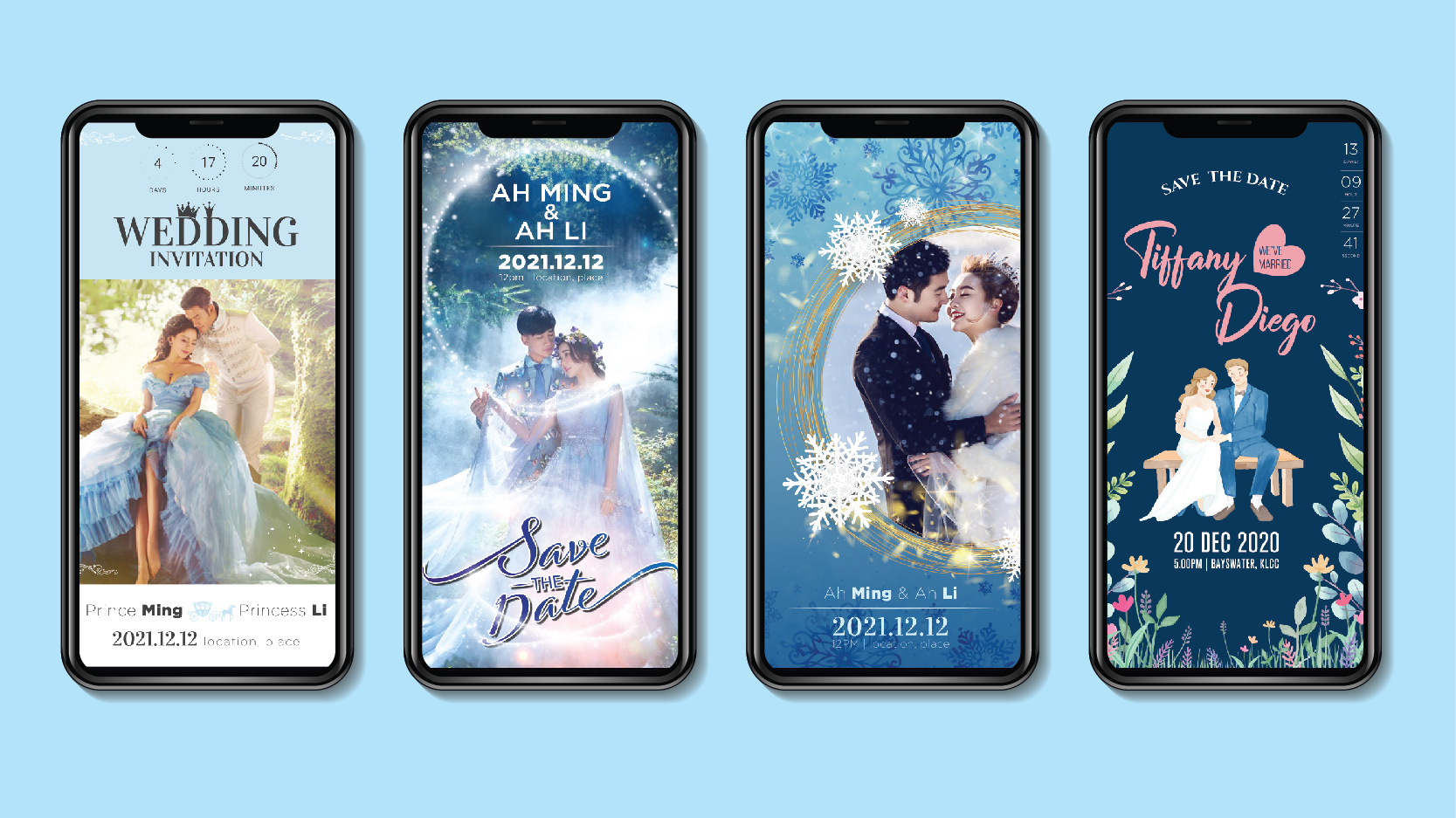 Fairytale themes are brimming with magic and fantasy, and the creative possibilities are limitless for bringing your favourite fairytales into your invitations. Depending on your wedding theme, you can add snowflakes, stars, sparkles, magical spells, and just about any fantasy design element as you see fit. To make it look truly special, vibrant colours like blue, gold, and purple are great for making your designs something out of a fantasy world.
For couples that plan to marry like a prince and a princess, it can be a great idea to add some common fairytale tropes into your designs. For instance, prefacing your wedding story with the classic "Once upon a time," line and the right images can add the magical touch you need.
Idea 5: Floral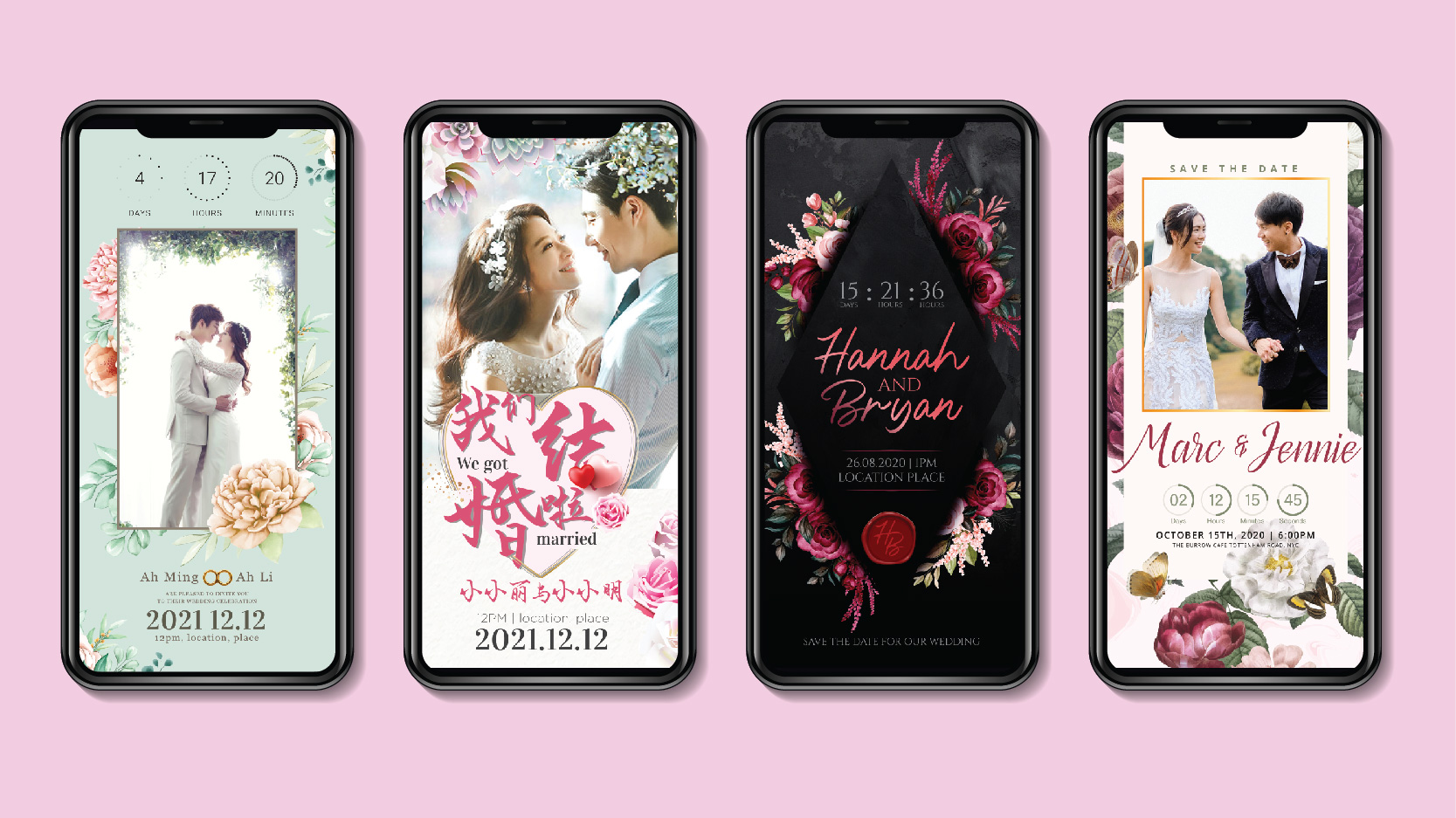 With flowers being one of nature's most beautiful gifts, using floral designs as the centerpiece of your wedding invitations is always a classic choice. Not only do they look great, but the variety of flowers available also means that there's a floral design for everybody. Planning a romantic setting? Pink tulips are perfect. Marrying in a luscious green garden? Feature some hydrangeas. Plus, floral elements are super flexible to work with for any design.
While floral designs aren't a new fad, they are still nonetheless a potent visual element that can naturally spice up your designs with colours, energy, and life. Couple that with your invitation along with some wedding photos and you'll have a lovely design that everyone will enjoy.
Idea 6: Cultural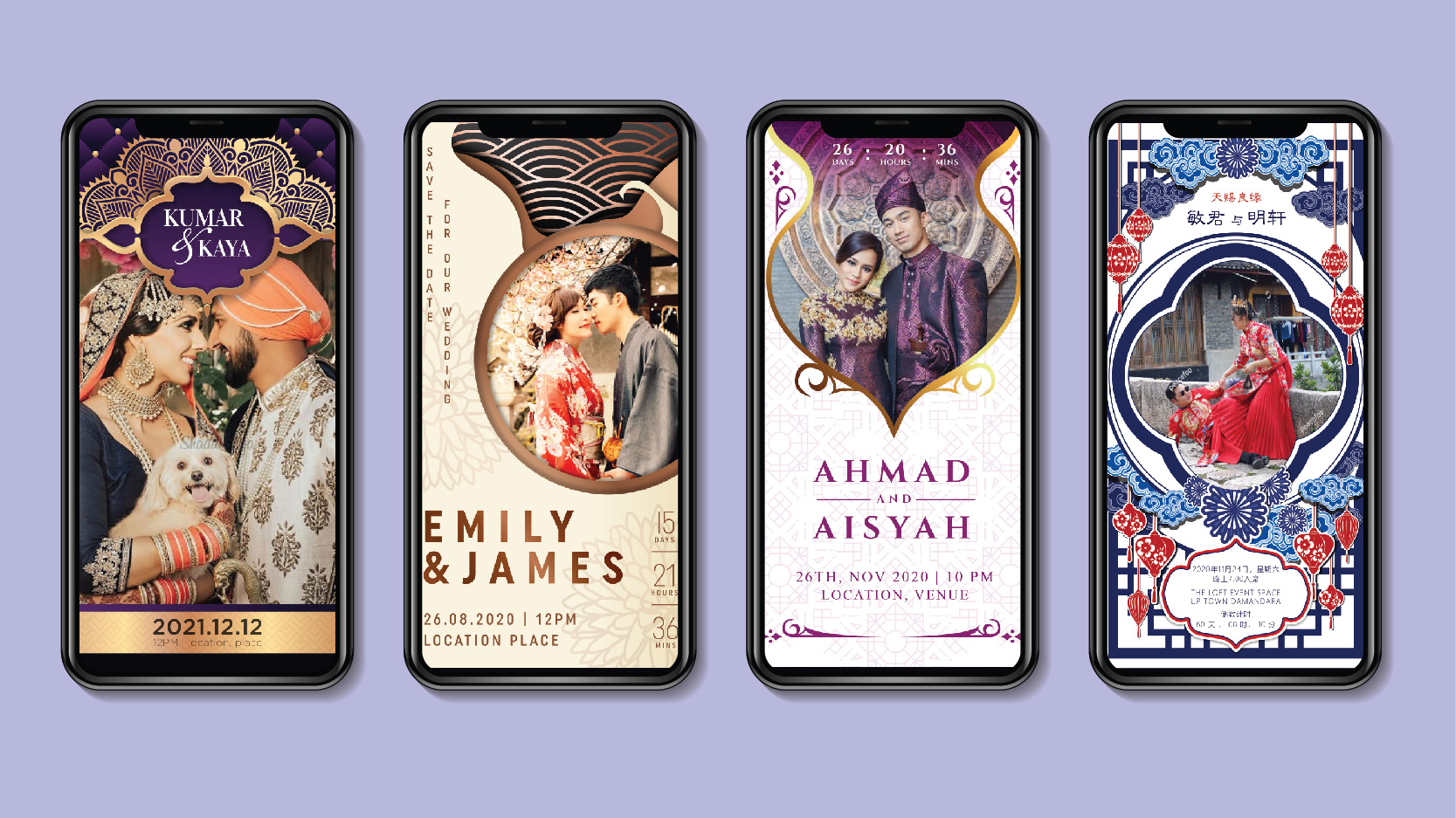 If your wedding is taking a traditional approach, taking inspiration from your culture can be a fun and unique way to create your wedding invitations. Since each culture has its own unique aesthetics and style, you can incorporate traditional auspicious colours, patterns and motifs in your design. For instance, many Asian cultures have their own distinctive elements that can add a cultural touch to your designs.
Since wedding invitations are meant to reflect the couple, you can definitely blend traditional design principles with your own style in your invitation, such as adorning your photos with traditional elements. After all, the invitation is for everyone to celebrate your big day.
Idea 7: Alternative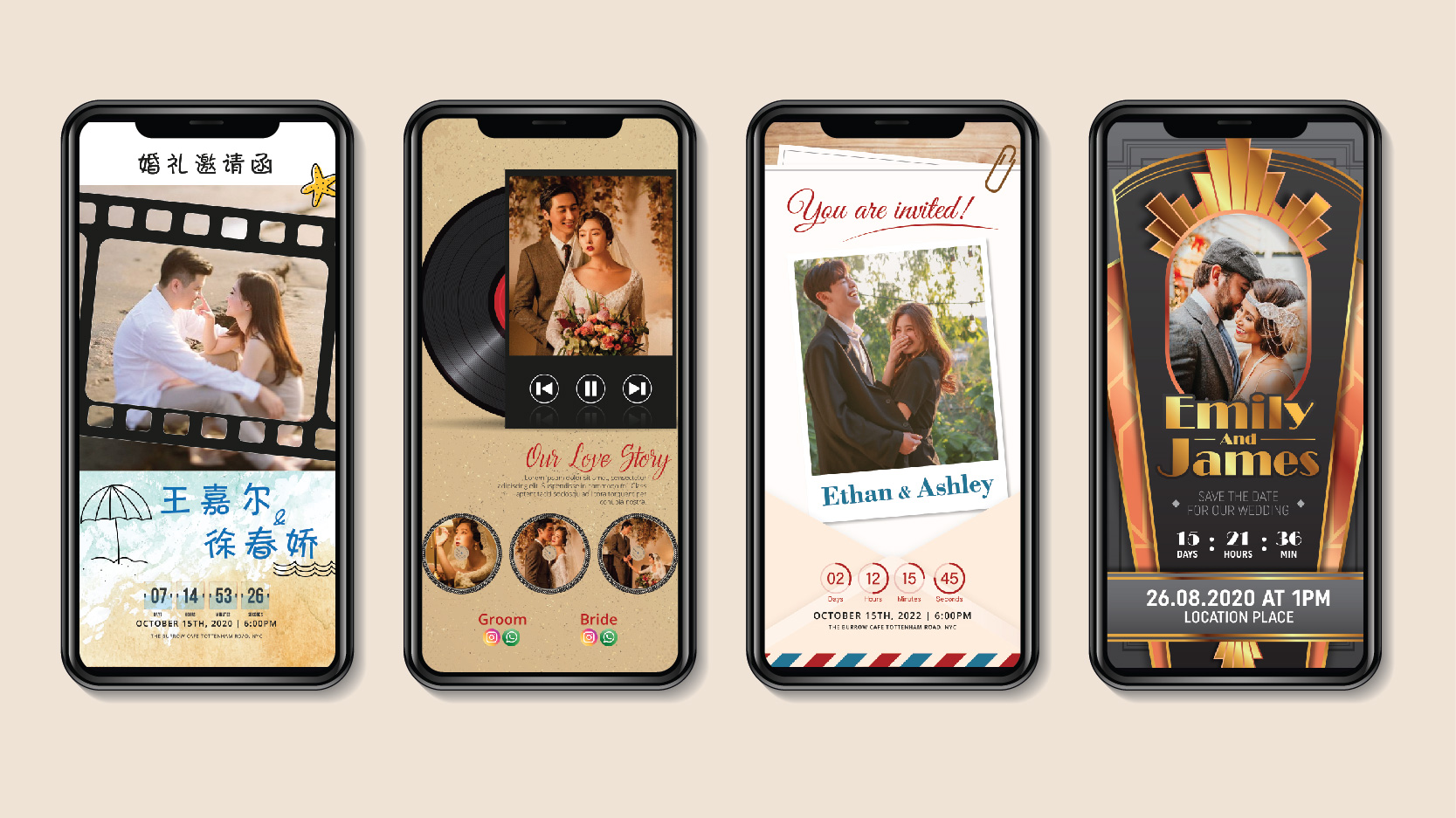 Not all wedding invitations have to just look pretty with the same ol' themes – bringing your beloved passions into your designs can work too! Whether your passion lies in music, movies, or even art, you can borrow plenty of design elements from these themes; vinyl records, film reel, and eye-catching graphic design are just some examples. For creative themes like these, holding back on the creativity is not how you celebrate your big day with a bang.
As artistic themes don't adhere to traditional design conventions as much, you can customize your invitations to better reflect who you and your partner are as a couple. Rather than a rigid, formally written invitation, you can word it more freely as you see fit.
Idea 8: Traditional Chinese
Although many couples are planning their weddings in a more contemporary fashion nowadays, getting married the traditional way is never a bad choice. For a traditional Chinese wedding, a typical wedding invitation would feature the auspicious colours of red and gold, the double happiness symbol, and plenty of Chinese artistic elements. Likewise, Chinese calligraphy is a staple for designs like these, which creates a distinctive design that reflects Chinese culture.
Since tradition is a big focus here, it is advisable to observe some of the Chinese etiquette when creating and sending your invitations. The wording is particularly important here, so make sure all names, dates, venue details, and other information are properly written and arranged.
Idea 9: Outdoorsy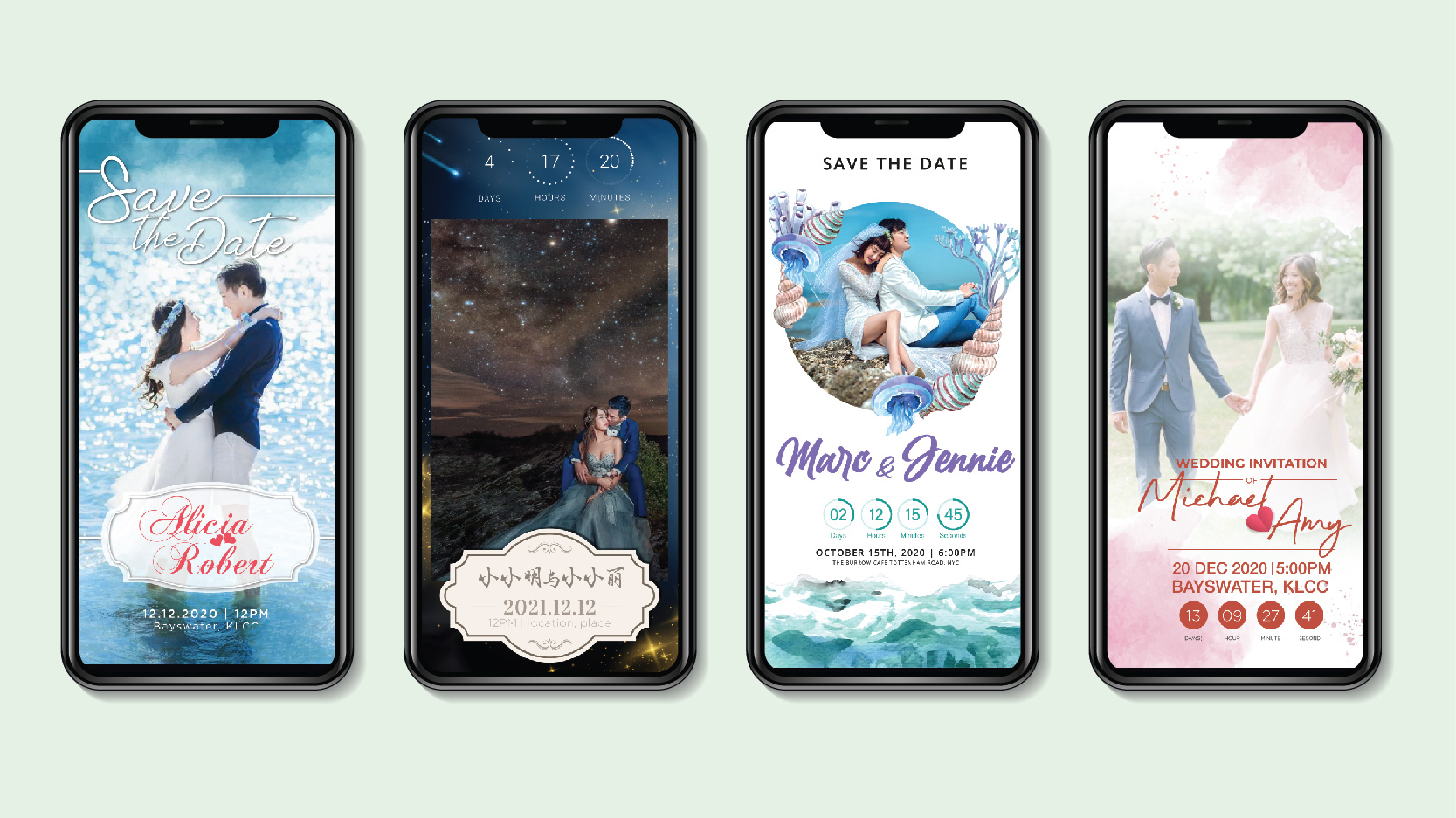 Wedding ceremonies don't always have to take place in a grand ballroom or event hall as there are plenty of wonderful outdoor locations to get married in. Gardens, forests, beautiful hills, and beachside all make spectacular backgrounds for a good design thanks to their natural scenery. Similar to rustic themes, outdoor-themed designs are best made with earthy colours like yellow, white, green, and brown along with cursive typefaces for that natural feel.
Depending on your chosen outdoor setting, you can consider adding elements of nature that fit. Besides flowers, wreathes, and greenery, there are loads of other natural beauties like stars, snowflakes, coral, and so many more that can be used to great effect in your invitations.
Idea 10: Artistic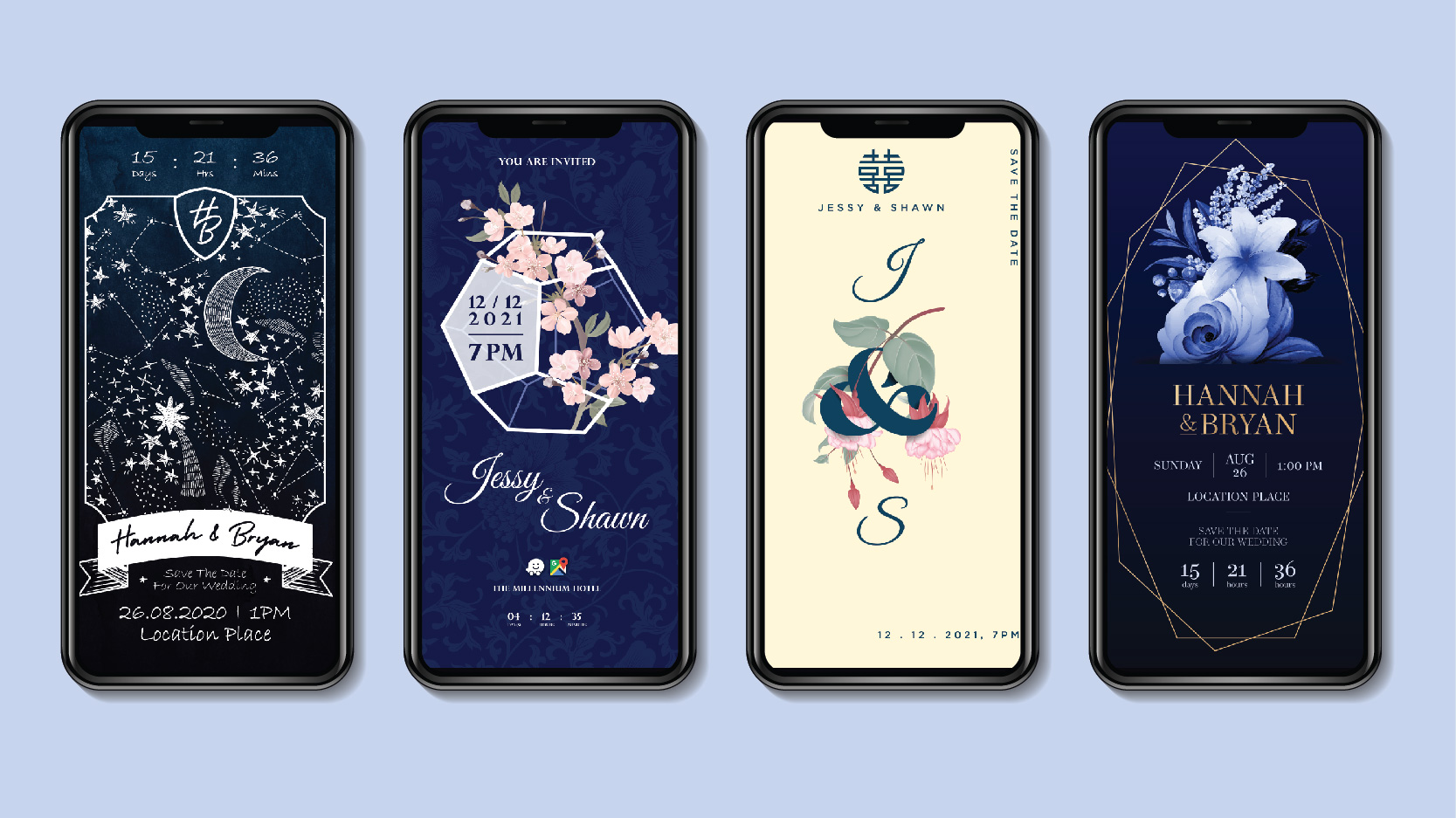 Sometimes, a little artistic flair is all a wedding invitation needs to be perfect. Whether it's beautiful abstract art or a highly exquisite style, an artistic design can be created in many different ways. It's not just pretty backgrounds and layouts either – good typography can be quite captivating too. Compared to the other themes, there is a lot of creative freedom for artistic designs so feel free to experiment with all sorts of colours, typefaces, and layouts.
One good thing about artistic wedding invitations is that they can be used for any wedding theme. From formal black-tie weddings and elegant traditional affairs to romantic and casual outdoor ceremonies, there's a beautifully illustrated design for every couple out there.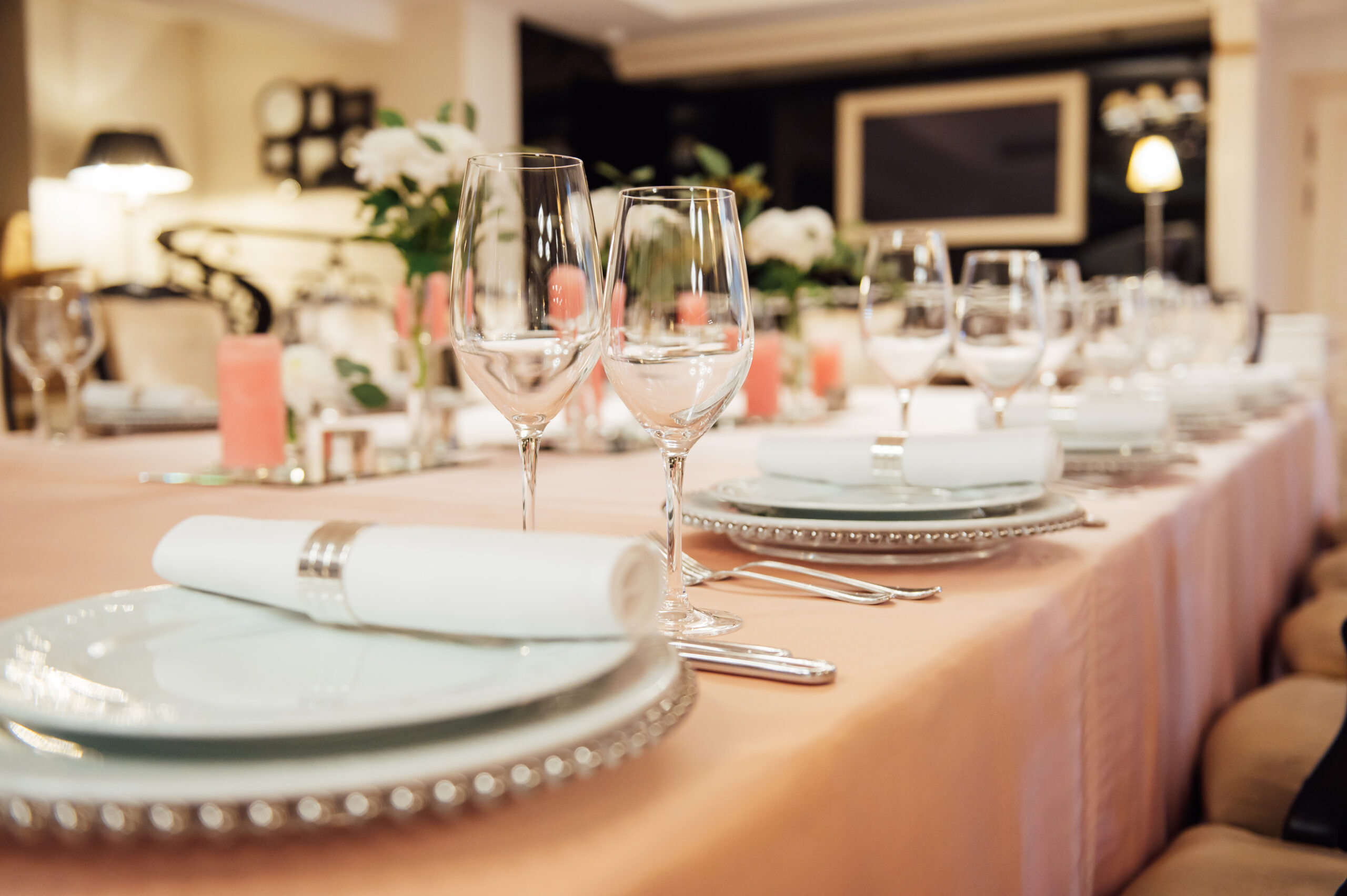 In the grand scheme of designs, these are just some of the many possible ideas for creating your wedding e-invitations. Thanks to digital technology, every couple can now find a design that suits them with a lot more flexibility and functionality with much lesser time and money spent. Even so, try not to worry too much about your designing the "perfect wedding invitation" as there is no right or wrong way to create it. The most important thing here is that your invitation gets all your friends and family together to celebrate your wedding.